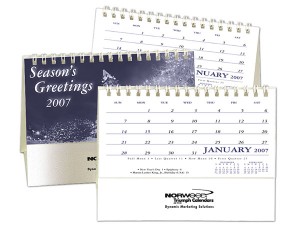 Custom-printed calendars are one of our most popular items here at CompuPrint. Calendars can be ordered in smaller quantities or mass-ordered and custom-designed for business or personal use. You can choose what photos or message appear on the top page of each month, and you can automatically print details on certain dates, such as big company events, holidays, or other important dates.
Calendars are not only useful, but they make amazing promotional items. Give your current customers and prospective customers a calendar guaranteeing that your company's information and services are seen daily. No matter who you are shopping for, a calendar is both convenient and personal. If you choose to send a calendar as a gift, make sure you check out our greeting cards to send along with your present.
As always, with CompuPrint you are guaranteed competitive prices and the quickest turnaround times. For calendars, we can turn around production in as quickly as one day. Give CompuPrint a call today. One of our staff members would be happy to discuss calendar printing with you.