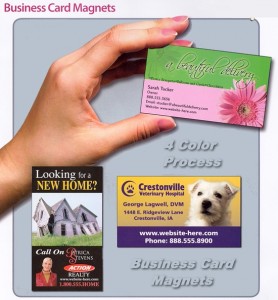 Magnets are great way to stay in front of your customers and they are useful as well! Whether you are looking for a practical, simple magnet, or one that is more custom, CompuPrint can design the right magnet for your needs.
Here at CompuPrint we offer custom-made magnets for all occasions—party favors, save-the-date reminders, promotional needs, school pride, or just for fun. Magnets are even great to have around the office, as they always come in handy. Our magnets can be completely custom-designed from scratch. We offer round, square, rectangular, or die-cut magnets.
We even offer car magnets so you can promote your business, support your school, favorite charity, or sports team on your vehicle.
As always, with CompuPrint you are guaranteed competitive pricing and the quick turnaround times. For magnets, we can turn around production in as quickly as one day. Give CompuPrint a call today. One of our staff members would be happy to discuss magnet printing with you.