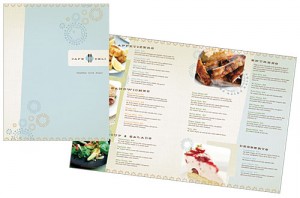 Your restaurant has a personality—the food, the atmosphere, the decorations, and even the staff all reflect a certain feeling and mood. Your menu should reflect the personality of your restaurant just as each dish you create. CompuPrint can help you to determine the right menu for your establishment—thin paper take-out menus that fold in thirds, leather-bound wine lists with fancy gold writing on the cover, or bright, flashy menus with pictures of the food covered in waterproof lining. No matter what idea you have in mind, CompuPrint can help make it a reality.
We would be happy to work with you to create your own, entirely new design, or to reprint your existing menu. We offer mass orders of lightweight menus and several numbers of standard orders for heavier and bound menus.
As always, with CompuPrint you are guaranteed competitive pricing and the quickest turnaround times. For menus, we can turn around production in as quickly as one day. Give CompuPrint a call today. One of our staff members would be happy to discuss menu printing with you.