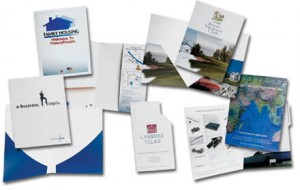 When potential clients ask for information about your company, or when recent college graduates are looking for employment information, it is incredibly professional to include all of the necessary information in a personalized presentation folder. This way you can include all of the necessary brochures, pamphlets, flyers, memos, and business cards you would like to give out in one easily accessible and organized folder.
All of our folders at CompuPrint are highly durable, and can be printed on many different stocks of paper from standard to very thick. You can choose from glossy or matte and from 1-3 colors or full color on the outside or both outside and inside of the folder. You can even choose to include photos or logos on the front of your folder or on the pocket flaps. We can print using foil to make your folder stand out from your competitors. We also offer to print mini calendars, phone directories, or important event details on the inside flaps of the pocket folder if you so choose.
As always, with CompuPrint you are guaranteed competitive pricing and the quickest turnaround times. For pocket folders, we can turn around production in as quickly as one day. Give CompuPrint a call today. One of our staff members would be happy to discuss pocket folder printing with you.