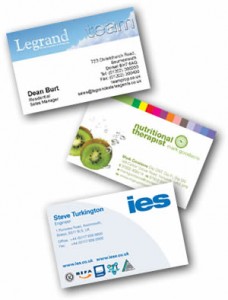 Almost everyone needs a business card these days whether you own your own business, offer services, or just want to be able to get your contact information out there. Business cards are a great way to get all of your contact information in one small, easily accessible place, and are great for exchanging information with others. A business card is like your own personal brochure!
If you are looking for a standard business card, or if you are looking for something that stands out, CompuPrint has the right business card options for you. We offer both thick glossy paper and 100% recycled matte paper, straight edges or rounded corners, horizontal layout or vertical layout, and even die-cutting!
CompuPrint even offers foil stamping, custom sizes, folding cards, and UV-coated cards for added individuality and durability. Traditional matte cards, snazzy vertical cards, and even round business cards are all a possibility with CompuPrint.
As always, with CompuPrint you are guaranteed competitive prices and the quickest turnaround times. For business cards, we can turn around production in as quickly as one day. Give CompuPrint a call today. One of our staff members would be happy to discuss business card printing with you.