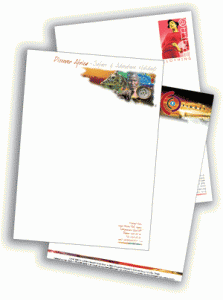 Letterheads are a must for any professional business. They are necessary for sending out company information to potential clients, business updates and agreements for existing clients, and any other official correspondences you make. A note printed on letterhead paper not only identifies who the note is from, but also makes a statement about the professionalism of the business.
Letterheads are available in both light stock for internal memo use and heavy stock for external and more professional use. We offer standard, raised, embossed, as well as full color logos and watermarks. Make sure to take advantage of our package deals—we offer packages of personalized letterheads, envelopes, business cards, and notepads at discounted prices. Letterheads come in standard or over-sized paper, and can be ordered in quantities of 500 or more.
As always, with CompuPrint you are guaranteed competitive pricing and the quickest turnaround times. For letterheads, we can turn around production in as quickly as one day. Give CompuPrint a call today. One of our staff members would be happy to discuss letterhead printing with you.