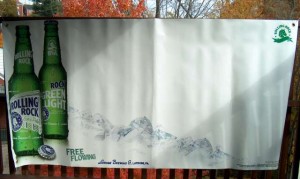 Nothing starts a celebration like a vinyl banner. Town square events, parades, shows, conventions, fairs, and outdoor events are all perfect occasions to flash your company logo wide across the sky with a vinyl banner. Vinyl banners are large, durable, and eye-catching promotional items that are one of our most popular products.
CompuPrint vinyl banners are durable and include grommets on the corners for ultra-durable hanging. We can include any photo, graphic, or logo on the banner. Our vinyl banners come in all sizes and colors, so you will be sure to find the right banner for your event. Vinyl banners are the most durable option, over posters or canvas prints.
As always, with CompuPrint you are guaranteed competitive pricing and the quickest turnaround times. For vinyl banners, we can turn around production in as quickly as one day. Give CompuPrint a call today. One of our staff members would be happy to discuss vinyl banner printing with you.